Call us and we can share auto battery prices with you and help find the best battery deals available for you, or visit our parts and accessories page to submit your online request. Or visit our parts and accessories department located at Jeff Wyler, check out our convenient hours and directions. We also handle proper car battery disposal for your old battery to make things as convenient as possible for you. Your disposed battery will be safely exchanged for a small fee and sent to a recycling station as you purchase your new car battery.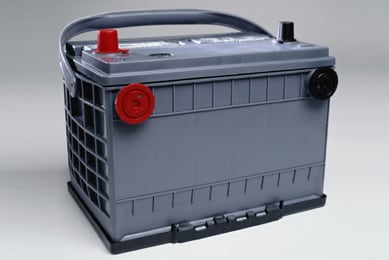 Car Battery Charging
Is your car having difficulty starting due to a low battery charge? Or has your battery gone dead, or needs a jump to start your car? Did you accidentally leave your headlights on and run your battery dead? Car battery charging is often an inexpensive and easy solution. Jeff Wyler Fairfield Auto Mall can charge your battery with our modern equipment and under the proper supervision. It is very important that when charging your battery, you have the proper settings on the charger, and that you are careful not to overcharge the battery. Overcharging your car battery can generate excessive heat and dangerous gases, either of which can damage or destroy your battery. Our professional battery charging service is quick, inexpensive, safe, and professional.
Auto Battery Prices
Choosing your car battery is an important decision, and our friendly service technicians at Jeff Wyler Fairfield Auto Mall are here to assist you in finding the best battery for you, as well as sharing auto battery prices for your selection. There are 5 factors to consider. The first is size, and making sure the battery will physically fit into your car snugly and securely. Your manufacturer's manual should detail your car's specific battery group size. Your second choice to consider is brand. Jeff Wyler Fairfield Auto Mall carries the OEM recommended brand batteries for your vehicle, as well as compatible alternatives that can save you money. We recommend that you ask for our professional parts advisor's advice when making your selection, as a cheap car battery might have less life and require replacement more often. The third factor to consider is the reserve capacity of the battery, also known as the battery's "standing power". This is the length of time (in minutes) that the battery can provide enough voltage to run your vehicle if your fan belt or alternator fails. Simply put, the longer the reserve capacity's standing power in minutes, the better. Your fourth factor to consider is age. Look at the manufacturing date on the car battery, it should be 6 months or less to be considered "fresh". The letter in the code stands for the month (A is January, B is February, etc), while the digit indicates the year (0 is for 2010, 1 is for 2011, etc). Your final factor to consider is very important, and that is the cold cranking amps. The cold cranking amps measures the car battery's ability to start your car in cold weather, which can be an important factor in Cincinnati. If you park your vehicle outside for long periods of time in cold weather, you will need more cold cranking amps with your battery to ensure dependable starting. Your owner's manual will also provide some useful direction on determining how many CCA's you will need. Depending on the quality of the battery you choose, the auto battery prices can vary.
Fairfield Car Batteries

Jeff Wyler Fairfield Auto Mall has more online positive ratings than any other car dealerships in Cincinnati. When it comes to car batteries, we have highly satisfied customers from throughout Ohio, Kentucky and Indiana, including Cincinnati, Dayton, Sharonville, West Chester, Middletown, Mason, Oxford, Forest Park, Kettering, and Covington (KY). The safety of you and your family is paramount to Jeff Wyler - come visit Jeff Wyler and join our family of highly satisfied customers!